Pet laser therapy is being used much the same way as acupuncture, massage, and other treatments to help animals with chronic pain. Lasers can be used as both a supplement to medication and on their own. At Brazos Bend Animal Hospital in Richmond, TX, our veterinarian is knowledgeable and skilled in the administration of pet laser therapy and how it can help improve the quality of life of your pet.

Read on for more information regarding the use of lasers for pets.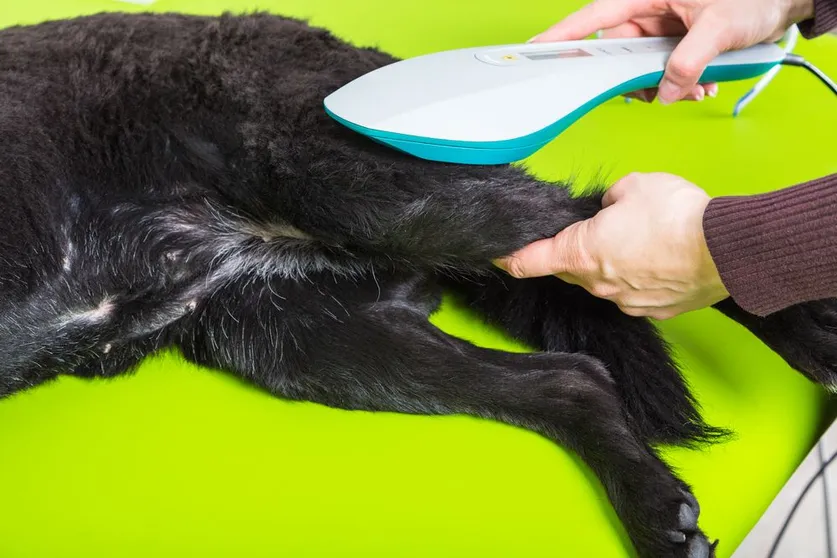 What Is Laser Therapy?
Laser therapy uses light to activate cells and promote growth and repair. It can help:
Release endorphins
Increase blood flow
Relax muscles
Decrease inflammation
Speed up wound healing
What Can Pet Laser Therapy Help Treat?
Lasers can be a good treatment tool for a vet to use in conjunction with other treatments. Some of the ailments and conditions it can help with include:
Pet arthritis
Hip dysplasia
Traumatic injuries
Injuries to tendons and ligaments
Surgical incisions
Scarring
Ear infections
Back pain
The laser is also useful to treat pets that cannot take traditional medication due to liver disease. It can be beneficial for cats (they have limited pain medication options), and older pets.
How Is Pet Laser Administered?
A quick visit to our vet on our veterinary team can help determine if his condition would benefit from laser therapy. Our animal hospital will schedule a series of sessions depending on the injury or ailment, and how severe it is.
A typical session lasts only a short time. Using the unit, our vet will move the laser back and forth over the area in need of treatment. The machine emits a warm sensation that pets can enjoy. In fact, it can be so relaxing that pets might fall off to sleep during treatment.
Is Pet Laser Therapy Safe?
When done by a trained professional, laser therapy is largely safe and painless. Your pet (along with everyone else in the room) will be given safety eye gear to wear to protect from any stray beams of light.
Get Preventative Care from Our Veterinarian at Our Animal Hospital
If you'd like to learn more about pet laser therapy, or schedule a preventative care visit, don't hesitate to contact us. Our staff is happy to assist you with your pet's health needs, including treatment for pet arthritis and other types of chronic pain. Call us at (281) 342-1117 for Brazos Bend Animal Hospital in Richmond, TX.