Pet grooming involves taking care of your pet's appearance and hygiene. This can include everything from brushing their fur to trimming their nails. As a pet owner, you probably care for your pet to enhance its appearance. However, you may not know that there are other benefits your pet enjoys by remaining clean. You can visit us at Brazos Bend Animal Hospital in Richmond, TX, and learn why you need to groom your pet.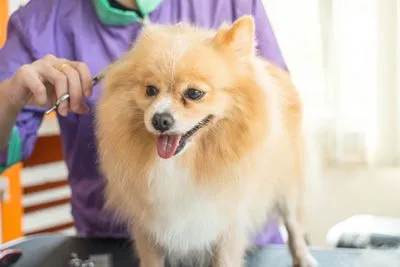 Early Detection of Skin Infections
A vet near me will groom your pet and ensure their coat is in optimal condition. Our veterinarian can detect early signs of skin infections and treat them before they cause your pet any discomfort. Skin infections can make your pet very uncomfortable. For example, itchy skin can make your pet scratch a lot, leading to secondary infections. A well-groomed pet is less likely to suffer from skin infections.
Helps with Allergies and Reduces Shedding
If you have pet allergies, you may think that the only way to deal with them is to get rid of your beloved animal. However, this does not have to be the case, as there are a few things you can do to lessen your allergies. Our veterinarian can help to eliminate your pet's allergies by cleaning them regularly. This will help to remove the allergens from your pet's fur. You must keep your pet well-groomed if you want to reduce your allergies.
Minimize the Chances of Ear Infections
Visiting an animal hospital regularly can help to minimize the chances of your pet developing ear infections. The vet will clean your pet's ears and remove any wax buildup. If there is any infection present, the vet can treat it immediately. Wax buildup can lead to severe ear infections that can cause your pet many discomforts.
Eliminate Bad Breath
It can be pretty noticeable and unpleasant if your pet has bad breath. As you'll learn from your veterinarian, bad breath in pets can signify gum disease. This is why taking your pet for regular checkups is essential. We will ensure that your pet's teeth are healthy and clean.
Schedule an Appointment with Our Chiropractor in Richmond, TX
You can rest assured that your pet is healthy and free from skin infections and other problems when you take them for regular checkup sessions. Call Brazos Bend Animal Hospital in Richmond, TX, today at (281) 342-1117 for more information or to schedule an appointment with our veterinarian.